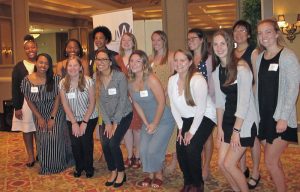 2018-2019 Recipients of Scholarships from AAUW
52nd ANNUAL Wilmington Branch, AAUW USED BOOK SALE
Brandywine Town Center, Rt. 202
Domed building, across from the playground
JUNE 11-13, 2021
Friday & Saturday, 10:00 a.m. – 7:00 p.m.
Friday Preferred entry fee $10 from 10:00 a.m. – noon
Sunday 10:00 a.m. – 5:00 p.m. All books HALF PRICE
State guidelines for Covid 19 will be followed
Proceeds go to scholarships for Delaware women since 1969
2021 Book Sale Changes:
This year's sale is in June when the public is finishing inoculations for the virus.                We will be in a large confined space with distancing possible.                                                  There will be one entrance and one exit.                                                                                    There will be a check-out for Dealers as in the past.                                                          Customers, however, will take their books to one cashier to be tallied and pay and not to separate colored table cloth areas.  Purchases can be made with cash,
check, or credit card.                                                                                                                  Credit card purchases will be available for all.
Volunteers are welcomed to help with this three day sale.
Please sign up using google docs. Just click below. If you are not comfortable with
completing this form, Trina has agreed that you call her at 302-268-4501 and she will complete the form for you.    https://forms.gle/Buin98MxUJJvhiST9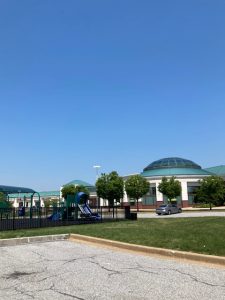 Trees hide the building. Friendly's on far left Christmas Tree Shop on the right. Entrance to sale is on the left of domed building. Walkway has a wrought iron railing.
Book Categories at the Used Book Sale include:
NONFICTION: Archaeology and Anthropology • Art, Antiques and Architecture • Audiobooks • Autographed • Biographies and Autobiographies • Business and Economics •  Coffee Table • Computers • Cookbooks • Delaware and the Mid-Atlantic • Dictionaries and Reference • Diet and Exercise • Foreign Language • Gardening • Gender and Sexuality • Genealogy • Grammar and Writing • Health and Medicine • History • Hobbies and How To • Holidays • Humor • Large Print • Life Sciences • Media • Metaphysics and Occult • Miniature Books and Journals • Music • Pets • Philosophy • Physical Sciences, Engineering and Mathematics • Political Science and Law • Psychology • Religion • Sociology • Space, Astronomy and Aviation • Transportation • Travel • True Crime • War and Civil War
FICTION (hardback, paperback and trade): Adventure and Spy • Ancient Classics and Mythology • Literature • Mysteries • Plays • Poetry • Romance • Science Fiction • Western and Historical
CHILDREN'S BOOKS AND BOOKS FOR PARENTS: Activities (word puzzles, crafts and anything fun to do) • Award winners (Caldecott and Newbery) • Christmas • Easy Readers and Chapter Books • Giftables (like-new books and bestsellers) • Educational Resources and Home Schooling • Golden Books • Hard Cover and Trade • Nonfiction • Nostalgia (from when today's adults were kids) • Parenting • Paperbacks • Picture and Story • Puzzles and Small Games • Teen Paperbacks • Teen Hard Cover and Trade • Toddler (board, cloth and musical books)
OTHER MATERIALS: CDs • Computer Games and Software • DVDs • Vinyl Records
Are there special arrangements for dealers? Yes. All dealers at the first morning of the sale should register at the building. If they register with the AAUW office in advance at aauwwilm@gmail.com or 302-428-0939
 , labels will be pre-printed.
Where do the items come from? They're all donated by individuals and organizations. If you'd like to donate books and other material that we sell, click on https://wilmington-de.aauw.net/donatebooks/. Throughout the year, volunteers sort donations and recycle books in poor condition. We take clean books to the sale and take pride in the quality of what we sell.
Who benefits from the sale? Since 1969, the money raised has gone to college scholarships for Delaware women. For details, click on Scholarships.
What groups make the sale happen? We get support from the Brandywine Town Center staff and security, as well as Delaware Moving and Storage and Diamond State Rentals.