We moved! The book room is currently accepting donations at our new location
at 8 Germay Drive. Across the street from our old location. (See photo on Home Page)
For donors who want a tax receipt: Please come prepared with the respective number of paperbacks and hardbacks in your donation.

Please brings books in boxes, not bags.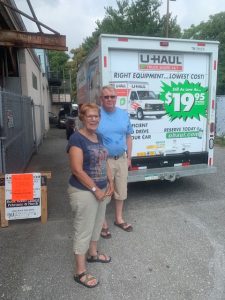 We also accept books delivered by truck.
---
Our Book Room is now a Book Store, too!
When you drop off books during regular hours, browse our selected titles, including a large number of Delaware related books. You no longer have to wait for the annual book sale! Purchase your books during the year.
We will be open on the first Saturday morning in September, October, November and December. You can purchase books on those Saturdays from 9:30-11:00 am. We will NOT be accepting book donations on these mornings.
Donation Hours
Book donations are accepted every Monday and Thursday (excluding holidays) from 9:30 a.m. until 11:00 a.m. at our Book Room, located at 8 Germay Drive, Germay Industrial Park, Wilmington, DE 19804. It is on the right, just before Faithful Friends. (Directions and Map are below.) Note, the Book Room may be closed for severe weather, such as excessive heat or heavy snow.
During the hours above, volunteers  can help unload books and provide a tax receipt. Please do NOT leave any books behind when the Book Room is unattended.
To assure the quality of books at the sale, we are unable to accept the following:.
NOT ACCEPTED:
Encyclopedias
Reader's Digest condensed books
Time-Life series
Books that are out of date or in poor condition (see below)
VHS tapes
Audio cassettes
ALSO NOT ACCEPTED:
Out of date  books issued annually  and textbooks that are more than five years old.
Poor condition includes books that smell bad, have stains,  brittle or browned pages, no covers,  torn covers,  missing pages,  insect damage,  material highlighted,  exercises or games partly filled in, mildew,  burn marks,  foxing (small brown blotches), warped pages,  water damage, or are falling apart. Future readers want books in good physical condition.
If you are unable to donate during our regular hours:
If you are unable to donate during regular Book Room hours please call the AAUW office (302-428-0939) and leave a message. We will do our best to arrange an alternative time.
Directions and Map:
From Route 48, Lancaster Pike/Lancaster Ave: Follow Route 48 to a right turn onto Route 100 South (DuPont Road). Route 100 (DuPont Road) ends at Route 4, Maryland Avenue. Turn LEFT onto Maryland Avenue. Follow it until you reach Germay Drive. TURN right at light onto Germay Drive. 8 Germay Drive is on the right (before Faithful Friends).
or,
Take I-95 south to Exit 6 Martin Luther King Blvd/ Route 4. Go straight towards Maryland Avenue, staying in right lane. At dead end, turn RIGHT onto Maryland Avenue. Go about 2 miles. After the railroad tracks, take a LEFT at the LIGHT onto Germay Drive. 8 Germay Drive is on your right before Faithful Friends). CLICK THE MAP TO ENLARGE IT.