We appreciate the community's support of our book sales and your book donations these last 50 years. We will be leaving 8 Germay by June, 2022.
Our book room is open at 8 Germay Drive Wilmington, DE 19804 until June 16, 2022 from 9:30 a.m. to 11:30 a.m. Books are free. Donations are welcome but not required.
The warehouse is closing. No book donations ARE accepted. We suggest that donors for books call local libraries in New Castle County, Habitat for Humanity, Salvation Army. As for the Trust, its value is over one million dollars, and we expect that we can grant scholarships for some years to come.
We will continue to accept donations with checks made out to AAUW Wilmington Scholarship and Memorial Fund and sent to AAUW at 1800 Fairfax Blvd., Wilmington, DE 19803 after the book sales end.
WE SUGGEST YOU CONTACT LOCAL LIBRARIES IN NEW CASTLE COUNTY TO LEARN HOW TO DROP OFF YOUR BOOKS.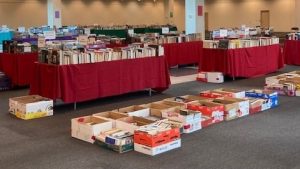 For questions or more information call or text Trina at 302-268-4501.
Directions and Map:
From Route 48, Lancaster Pike/Lancaster Ave: Follow Route 48 to a right turn onto Route 100 South (DuPont Road). Route 100 (DuPont Road) ends at Route 4, Maryland Avenue. Turn LEFT onto Maryland Avenue. Follow it until you reach Germay Drive. TURN right at light onto Germay Drive. The AAUW Book Room is at 8 Germay Drive is on the right (before Faithful Friends).
or,
Take I-95 south to Exit 6 Martin Luther King Blvd/ Route 4. Go straight towards Maryland Avenue, staying in right lane. At dead end, turn RIGHT onto Maryland Avenue. Go about 2 miles. After the railroad tracks, take a LEFT at the LIGHT onto Germay Drive. 8 Germay Drive is on your right before Faithful Friends). CLICK THE MAP TO ENLARGE IT.
FAQs
Who benefits from the sale? Since 1969, the money raised has gone to college scholarships for Delaware women. For details, click on Scholarships.