The book room reopened on September 9, 2021 and closes at the end of October in preparation for the November sale.
 A Warehouse book sale at 8 Germay Drive in November!
Too many books needing good homes! The sale will run 10 a.m. to 5 p.m. Saturday and Sunday, Nov 20 to Nov 21, at our warehouse, 8 Germay Drive, Wilmington, DE 19804, off Maryland Avenue. Paperbacks are 50 cents, most hardbacks $2. Large art books for coffee table up to $5. Collectibles are individually priced. And from 2-5 p.m. Sunday, you can fill a bag for $ 10.
We will be open on Mondays and Thursdays from 9:30 a.m. to 11:30 a.m.
Please wear a mask and exercise Covid precautions. Do not drop off your book donations unless our members are present.
The 52nd AAUW Wilmington Branch Used Book Sale was held in a new month, June, and a new venue, Brandywine Town Center. Thanks to the volunteers who were flexible to all the changes including taking multiple shifts. About 33,000 books were taken to the sale.
Book Categories at the Used Book Sale include:
NONFICTION: Archaeology and Anthropology • Art, Antiques and Architecture • Audiobooks • Autographed • Biographies and Autobiographies • Business and Economics •  Coffee Table • Computers • Cookbooks • Delaware and the Mid-Atlantic • Dictionaries and Reference • Diet and Exercise • Foreign Language • Gardening • Gender and Sexuality • Genealogy • Grammar and Writing • Health and Medicine • History • Hobbies and How To • Holidays • Humor • Large Print • Life Sciences • Media • Metaphysics and Occult • Miniature Books and Journals • Music • Pets • Philosophy • Physical Sciences, Engineering and Mathematics • Political Science and Law • Psychology • Religion • Sociology • Space, Astronomy and Aviation • Transportation • Travel • True Crime • War and Civil War
FICTION (hardback, paperback and trade): Adventure and Spy • Ancient Classics and Mythology • Literature • Mysteries • Plays • Poetry • Romance • Science Fiction • Western and Historical
CHILDREN'S BOOKS AND BOOKS FOR PARENTS: Activities (word puzzles, crafts and anything fun to do) • Award winners (Caldecott and Newbery) • Christmas • Easy Readers and Chapter Books • Giftables (like-new books and bestsellers) • Educational Resources and Home Schooling • Golden Books • Hard Cover and Trade • Nonfiction • Nostalgia (from when today's adults were kids) • Parenting • Paperbacks • Picture and Story • Puzzles and Small Games • Teen Paperbacks • Teen Hard Cover and Trade • Toddler (board, cloth and musical books)
OTHER MATERIALS: CDs • Computer Games and Software • DVDs • Vinyl Records
Proceeds for our book sales provide scholarships for higher education for Delaware women.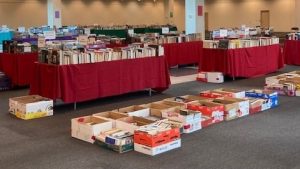 Donation location:
Our Book Room is located at the AAUW Book Room at 8 Germay Drive, Germay Industrial Park, Wilmington, DE 19804.
It is on the right, just before Faithful Friends. (Directions and Map are below.)
For questions or more information call or text Trina at 302-268-4501.
For donors who want a tax receipt: Please come prepared with the respective number of paperbacks and hardbacks in your donation.

Please bring books in boxes if possible.
---
Our Book Room is now a Book Store, too!
The retail store has a selection of very good books in popular categories at reduced prices. Stop in on  Mondays and Thursdays 9:30 to 11:30 a.m..  For questions or more information, call or text Trina G. at 302-268-4501..
When you drop off books during regular hours, browse our selected titles, including a large number of Delaware- related books. You no longer have to wait for the annual book sale! Purchase your books during the year.
During the hours above, volunteers  can help unload books and provide a tax receipt. Please do NOT leave any books behind when the Book Room is unattended.
To assure the quality of books at the sale, we are unable to accept the following:
NOT ACCEPTED:
Encyclopedias
Reader's Digest condensed books
Time-Life series
Books that are out of date or in poor condition (see below)
VHS tapes
Audio cassettes
ALSO NOT ACCEPTED:
Out of date  books issued annually  and textbooks that are more than five years old.
Poor condition includes books that smell bad, have stains,  brittle or browned pages, no covers,  torn covers,  missing pages,  insect damage,  material highlighted,  exercises or games partly filled in, mildew,  burn marks,  foxing (small brown blotches), warped pages,  water damage, or are falling apart. Future readers want books in good physical condition.
If you are unable to donate during our regular hours:
If you are unable to donate during regular Book Room hours please call the AAUW office (302-428-0939) and leave a message. We will do our best to arrange an alternative time.
Directions and Map:
From Route 48, Lancaster Pike/Lancaster Ave: Follow Route 48 to a right turn onto Route 100 South (DuPont Road). Route 100 (DuPont Road) ends at Route 4, Maryland Avenue. Turn LEFT onto Maryland Avenue. Follow it until you reach Germay Drive. TURN right at light onto Germay Drive. The AAUW Book Room is at 8 Germay Drive is on the right (before Faithful Friends).
or,
Take I-95 south to Exit 6 Martin Luther King Blvd/ Route 4. Go straight towards Maryland Avenue, staying in right lane. At dead end, turn RIGHT onto Maryland Avenue. Go about 2 miles. After the railroad tracks, take a LEFT at the LIGHT onto Germay Drive. 8 Germay Drive is on your right before Faithful Friends). CLICK THE MAP TO ENLARGE IT.
FAQs
Are there special arrangements for dealers? Yes. All dealers at the first morning of the sale should register at the building. If they register with the AAUW office in advance at aauwwilm@gmail.com or 302-428-0939 labels will be pre-printed.
Where do the items come from? They're all donated by individuals and organizations. If you'd like to donate books and other material that we sell, click on https://wilmington-de.aauw.net/donatebooks/. Throughout the year, volunteers sort donations and recycle books in poor condition. We take clean books to the sale and take pride in the quality of what we sell.
Who benefits from the sale? Since 1969, the money raised has gone to college scholarships for Delaware women. For details, click on Scholarships.
What groups make the sale happen? We get support from the Brandywine Town Center staff and security, as well as Delaware Moving and Storage and Diamond State Rentals.