49th annual Dollars for Scholars book sale
The area's largest sale of gently used books has been scheduled by the Wilmington branch of the American Association of University Women. The 49th annual Dollars for Scholars Used Book Sale, to benefit college scholarships for Delaware women, will run Feb. 2018, at Concord Mall, 4737 Concord Pike, Brandywine Hundred, DE 19803.
Special features this year include a section on vintage mysteries.
Most items are $1 to $5, with collectibles up to $100. Items are sorted into more than 50 categories on tables throughout the mall. The sale also includes audio books, DVDs, CDs, sheet music, puzzles, and ephemera. The sale runs 10 a.m. to 9 p.m. daily, 11 a.m. to 5 p.m. Sunday, March 12. Bad weather may curtail sale hours.
For more information, visit https://wilmington-de.aauw.net/booksale, call 302-428-0939 or e-mail aauwwilm@gmail.com. The website has details about the scholarships that the sale funds and on how to make donations for future sales.
April 2016 Bulletin april 2016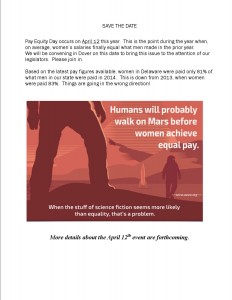 PUBLIC POLICY ARTICLE
Here's a one-question multiple choice quiz for you.
What is Title IX?
A Federal law to prohibit sex discrimination on the athletic field.
A Federal law that monitors gender ratios in STEM courses.
A Federal law that protects students from sexual harassment and violence that occur                    in the course of a school's educational programs and activities.
A Federal law that protects pregnant, parenting and/or married students from                                discrimination in their high school or college education.
If you selected A you would be correct.  If you selected B you would be correct.  If you selected C you would be correct and if you selected D you would be correct.
For many years, Title IX has been associated with girls and young women's equal access to athletics.  However, the 1972 law is about much more than sports' fields.  It affects all areas of education including: recruitment, admissions and housing; career and technical education; pregnant and parenting students; STEM education; financial assistance; harassment based on gender identity; and school discipline.
To help assure school compliance, Title IX requires that every school district designate at least one employee who is responsible for coordinating the school's compliance, overseeing  complaints of sex discrimination, and identifying and addressing systemic problems at their schools.  In reality though, schools are often without coordinators, or the coordinators do not understand the scope of the law, or the person named as coordinator may have a clear conflict of interest such as athletic director or administrator.
Now, in part due to AAUW's activism, the U.S. Department of Education (DOE) has released essential resources that provide job descriptions and information to help each coordinator do his/her job more effectively.  Even with this added attention to the coordinator's important role, more work needs to be done.  AAUW's research shows that just 36 percent of athletic dollars go to women's teams; women and girls are still seriously underrepresented in STEM classes at all levels;  nearly half of students in grades 7-12 report facing sexual harassment; and around 28 percent of women are targets of attempted or completed sexual assault while they are college students.  (According to the Federal Student Aid office, the number of forcible sexual assaults on campus has nearly doubled between 2009 and 2014 — from 3,264 assaults in 2009 to 6,016 in 2014.)
AAUW has led the charge to halt sexual violence on college campuses and now urges action to address this ballooning issue. A bipartisan bill has been introduced in the U.S. Congress by Representatives Jackie Speier (D-CA) and Patrick Meehan (R-PA).  This bill, H.R.2680 — HALT Campus Sexual Violence Act — would:  (1) allow students to sue universities for violations of the Clery Act, an act that requires colleges and universities receiving federal funds to report crime statistics to the DOE and the public; (2) increase funding for Title IX and Clery investigators; (3) require public disclosure of the list of institutions under investigation; (4) increase penalties for violations of the Clery Act; and (5) require schools to complete biennial climate surveys.
Here is how we can help! We can take action today by going to https://www.aauw.org/what-we-do/public-policy/two-minute-activist/ and urging Congressman Carney to cosponsor the Hold Accountable and Lend Transparency (HALT) on Campus Sexual Violence Act. 
AUUW Delaware Pay Equity Day in Dover, March 24, 2015. Public Policy Co-chairs Linda Barnett and Deb Berke organized the day with training, signing letters to legislators and then meeting legislators at Legislative Hall.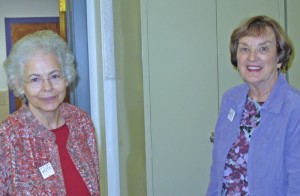 Linda Barnett, Public Policy Chair and Lois Hubbs, President, assist at the Candidates' Forum on October 29.