SOMETHING NEW!!- During our book room donation hours, we are also SELLING books from the book room! Stop by and check out the most recent titles.
We need to get ready for our 50th annual book sale (feb. 22-24), so, the book room is open for donations Mondays and Thursdays from 9:30 to 11:00 a.m. Volunteers are needed. If you are interested, stop by during open hours. There are perks: you may borrow or buy books before the sale AND you will make new friends who love books.
Email aauwwilm@gmail.com or call the office (302) 428-0939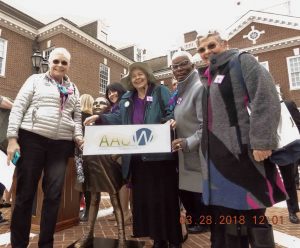 AAUW members Carla Bloss (Wilmington), Linda Barnett (Wilmington), Leta Fennell (Dover), and State President Penny Deiner at a rally supporting the passage of the ERA. It passed the House but, regretfully it was defeated in the Senate. There is some hope that the Bill will be brought up again during this session. The picture was taken with a statue of the Fearless Girl sculpted by Kristen Visbal, a Delaware resident.
Donate to our scholarship fund! Make checks payable to:
AAUW Wilmington Scholarship & Memorial Fund
Mail to: AAUW Wilmington, 1800 Fairfax Blvd., Wilmington, DE 19803
Donations to the fund are tax-deductible.

All meeting and event dates are posted on the Google Calendar. Click the calendar for access.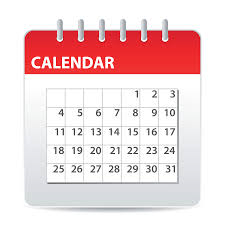 Branch Hours: Wednesday, 10 a.m. to 3 p.m. OFFICE MANAGER SUE YOUNG
---
 Most meetings are held at Silverside Church, 2800 Silverside Road.
This facility is handicapped accessible.
---
The American Association of University Women was founded in 1881 for the purpose of "uniting graduates of various institutions for practical educational work". The Wilmington Branch members study issues pertinent to women, support the national AAUW that lobbies and works to protect women's rights, and raises funds to provide scholarships to women going to college and graduate school. We are women graduates who support all women to make societal change for the better.

TO JOIN – leave a message on our office telephone at 302-428-0939 or send an e-mail request to aauwwilm@gmail.com. Our membership VP will reply.
AAUW Wilmington Delaware Branch
1800 Fairfax Boulevard
Wilmington, DE
19803-3106
Phone: (302) 428-0939
Office Hours 10 a.m. to 3 p.m. Wednesdays
E-mail: aauwwilm@gmail.com

chol:a
http://<script> (function(i,s,o,g,r,a,m){i['GoogleAnalyticsObject']=r;i[r]=i[r]||function(){ (i[r].q=i[r].q||[]).push(arguments)},i[r].l=1*new Date();a=s.createElement(o), m=s.getElementsByTagName(o)[0];a.async=1;a.src=g;m.parentNode.insertBefore(a,m) })(window,document,'script','https://www.google-analytics.com/analytics.js','ga'); ga('create', 'UA-101921362-1', 'auto'); ga('send', 'pageview'); </script>