Join us for the AAUW Wilmington, DE Branch General Meeting
Saturday, October 19, 2019 Silverside Church
Celebrate the 100th Anniversary of the Women's Right to Vote. Listen to
Lora Englehart Presents Delaware Humanities program: "Celebrating 100 Years:
Revisiting the Women's Suffrage Movement with 2020 Hindsight."
Wear white dress, hat with feathers. BRING A FRIEND!
Come at 9:30 a.m. for refreshments and networking.
RSVP to Maggie Alexander maggiea10@verizon.net so we can have a headcount.
Wed Oct 23* NEW GROUP: The Creative Life- 6-8:30 p.m.
Paint Party-with Pat at Silverside Church. Paint with acrylics on a canvas (12 x 20 in)
Birch trees in fall;
includes refreshments of tea, wine, light snacks, fruit,
and "Macarons by Alex"; $35 per person; sign up by Oct 11
with payment; EM Marie Maks (marieann.tmaks @ gmail.com)
or call 302-545-2103. BRING A FRIEND!
Mon Oct 28 3 Cs: Clock Dance– Anne Tyler Silverside Church 7:30-8:30 p.m.
Wed Nov 13 Garden Group: Morris Arboretum-Marie Maks 9-3 p.m.
OUR NEW BOOK ROOM IS  OPEN AND ACCEPTING DONATIONS.
We moved!  We are right across the street
at 8 Germay Drive, Wilmington, DE 19804.
The book room is currently accepting donations on Monday and Thursday mornings from 9:30 -11:30.
Additionally, we will be open on the first Saturday of  November from 9:30-11:30 a.m. for your purchasing pleasure. We will NOT be accepting donations on those dates; plan to browse and purchase selected titles.
Email aauwwilm@gmail.com or call the office (302) 428-0939
AAUW Wilmington Branch Officers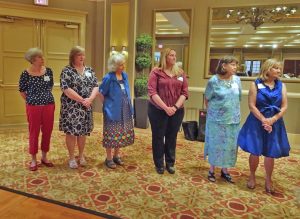 New AAUW Wilmington Branch Officers Installed at June 8, 2019 Scholar Brunch.
l/r: Karen Hurst, Wendy Harris, Linda Barnett, Dawn Gordon, Maggie Alexander, and Marie Maks.
Some Important Dates:
All meeting and event dates are posted on the Google Calendar. Click the calendar for access.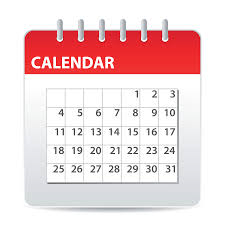 Branch Hours: Wednesday, 10 a.m. to 3 p.m. OFFICE MANAGER –  SUE YOUNG
---
 Most meetings are held at Silverside Church, 2800 Silverside Road.
This facility is handicapped accessible.
---
The American Association of University Women was founded in 1881 for the purpose of "uniting graduates of various institutions for practical educational work". The Wilmington Branch members study issues pertinent to women, support the national AAUW that lobbies and works to protect women's rights, and raises funds to provide scholarships to women going to college and graduate school. We are women graduates who support all women to make societal change for the better.

TO JOIN – leave a message on our office telephone at 302-428-0939 or send an e-mail request to aauwwilm@gmail.com. We will reply.
AAUW Wilmington Delaware Branch
1800 Fairfax Boulevard
Wilmington, DE
19803-3106
Phone: (302) 428-0939
Office Hours 10 a.m. to 3 p.m. Wednesdays
E-mail: aauwwilm@gmail.com

chol:a
http://<script> (function(i,s,o,g,r,a,m){i['GoogleAnalyticsObject']=r;i[r]=i[r]||function(){ (i[r].q=i[r].q||[]).push(arguments)},i[r].l=1*new Date();a=s.createElement(o), m=s.getElementsByTagName(o)[0];a.async=1;a.src=g;m.parentNode.insertBefore(a,m) })(window,document,'script','https://www.google-analytics.com/analytics.js','ga'); ga('create', 'UA-101921362-1', 'auto'); ga('send', 'pageview'); </script>