The scholarship applications and forms are listed on the Scholarship page for the next awardee year of 2024-2025.

     TO JOIN the Wilmington, DE Branch of American Association of University Women, please click HERE.

Donate to our scholarship fund!

Make checks payable to:

AAUW Wilmington Scholarship & Memorial Fund

Mail to: AAUW Wilmington, 1800 Fairfax Blvd., Wilmington, DE 19803

Donations to the fund are tax-deductible.

You can leave us a message on our office telephone at 302-428-0939 or send any questions to us by e-mail at aauwwilm@gmail.com.

General Meeting information for 2023-2024 will be posted as it is available.
Below are photos from our June 3, 2023 brunch.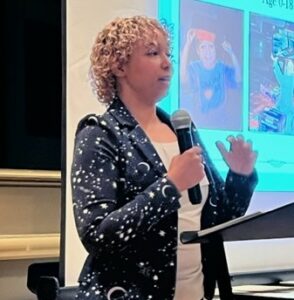 Speaker: Zoe Longenecker-Wright, graduate of Brandywine High School, Johns Hopkins, and University of Stavanger, Norway
AAUW Wilmington Delaware Branch
            AAUW 1800 Fairfax Boulevard                              Wilmington, DE 19803                                        Phone: (302) 428-0939                              Email: aauwwilm@gmail.com
        Phone calls and emails will be returned  in 3 business days.                          
               AMERICAN ASSOCIATION OF UNIVERSITY WOMEN (AAUW is a 501(c)(3) organization)
The American Association of University Women (AAUW) is the nation's leading voice promoting equity and education for women and girls. Since our founding in 1881, AAUW members have examined and taken positions on the fundamental issues of the day – educational, social, economic, and political.
         
Mission: To advance gender equity for women and girls through research, education and advocacy.                   
Vision: Equity for all.
 Values: Nonpartisan. Fact-based. Integrity. Inclusion and Intersectionality.
AAUW staff work to break through barriers so that all women have a fair chance.
                                                       
 AAUW NATIONAL LEADERSHIP
    Board of Directors Chairperson – Julia T. Brown, J.D. Chief Executive Officer – Gloria L. Blackwell AAUW, 1111 16th Street NW, Washington, DC 20036 www.aauw.org Email: connect@aauw.org Call: 1-800-326-AAUW
E-mail: aauwwilm@gmail.com

chol:a
http://<script> (function(i,s,o,g,r,a,m){i['GoogleAnalyticsObject']=r;i[r]=i[r]||function(){ (i[r].q=i[r].q||[]).push(arguments)},i[r].l=1*new Date();a=s.createElement(o), m=s.getElementsByTagName(o)[0];a.async=1;a.src=g;m.parentNode.insertBefore(a,m) })(window,document,'script','https://www.google-analytics.com/analytics.js','ga'); ga('create', 'UA-101921362-1', 'auto'); ga('send', 'pageview'); </script>