CONGRATULATIONS TO THE WINNERS OF THE SCHOLARSHIPS FOR WOMEN FOR ACADEMIC COLLEGE YEAR 2021-22 !!!
Click here to see this year's scholarship recipients!
Scholarships are available to females who are U.S. citizens and high school graduates. All NEW applicants must be New Castle County, DE residents. All high school seniors applying must attend a high school in New Castle County or be home schooled in the County. Home-schooled students must meet University of Delaware admission requirements. All scholarship recipients must be enrolled in a baccalaureate or graduate degree program at an accredited institution. The new application for the 2022-2023 academic year will be available in October 2021.  The last date for submission of the application will be March 1, 2022.DEADLINE FOR APPLICATIONS IS MARCH 1. Winners will be announced in May.
Any questions about the application process may be sent to aauwwilmscholars@gmail.com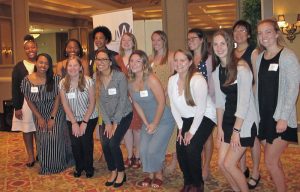 SCHOLARSHIPS FOR WOMEN RESIDENTS OF NEW CASTLE COUNTY, DELAWARE
The American Association of University Women was founded in 1881 for the purpose of "uniting of the alumnae of different institutions for practical educational work." In accordance with the goal of working for broader opportunities for women, the Wilmington Branch of the Association offers annual scholarships of varying amounts to women pursuing a baccalaureate or graduate degree at an accredited college or university.
Scholarships apply only toward tuition, are for one year only, and are awarded on the basis of: Scholastic standing, Financial need, Contributions to the school and community, and Results of standardized testing. Scholarships are renewable.
Donate to our scholarship fund!  
Make checks payable to:
AAUW Wilmington Scholarship & Memorial Fund
Mail to: AAUW Wilmington, 1800 Fairfax Blvd., Wilmington, DE 19803
Donations to the fund are tax-deductible.
Website Privacy Policy: AAUW Wilmington does not collect personal information on this website. We do not place cookies on your computer.